Yeah, yeah, we know we took waaaaay too long to fill out the final two spots of our bracket but we didn't want to put just anybody in there. Have to be careful. Don't want to let some hack in. That would be like, I dunno, putting Michigan's basketball team in the NCAA tournament (Ziiiiing!).
Now, before we get to the showdown between our final two seeds, let's refresh, shall we? First, below is the bracket (
click here
for a larger view).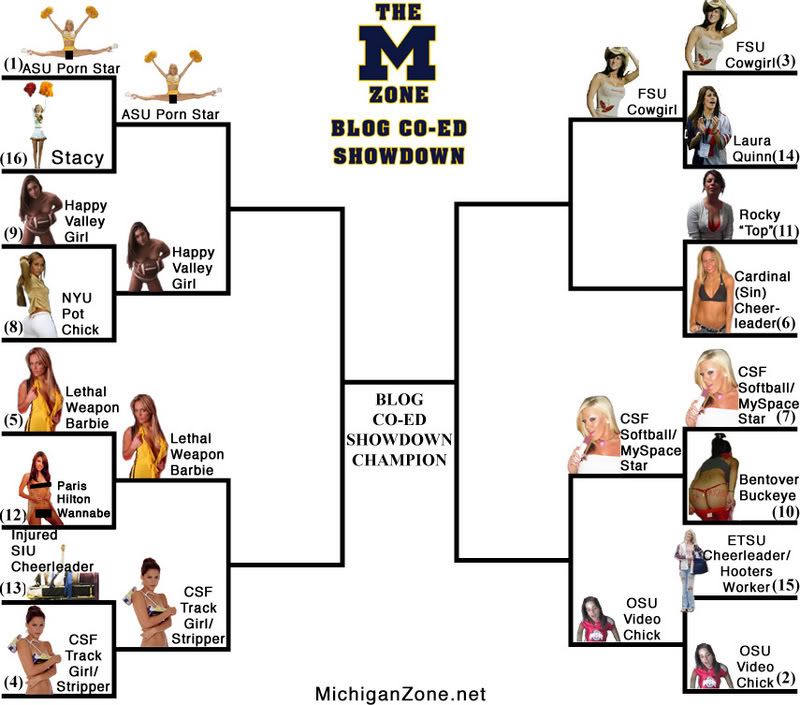 And to see what happened in the rest of the first round, click here and scroll down to find the previous BCS posts.
Ok, with that out of the way, after much careful consideration/procrastination, we have finally selected our final two BCS contestants. Today, our #6 seed, the Louisville Cardinal (Sin) Cheerleader, goes head-to...head with our #11 seed, UT's Rocky "Top" Internet Hostess.

The University of Louisville cheerleader gained Internet infamy with some very racy photos (NSFW) that would make former Idol Antonella Barba blush (also NSFW but nothing compared to the first link). Meanwhile, Rocky "Top" is UT junior who came to our attention via her YouTube posts about Vol football. In them, she wore a shirt that, well, uh, what was she saying about football again?

SCOUTING REPORT

School:

Cardinal (Sin): University of Louisville
Rocky "Top": Tennessee

Claim to Fame:

Rocky "Top": Espousing the virtues of Vol football on YouTube
Cardinal (Sin): Exposing her virtues while using a battery-operated tube

Fashion Statement:

Rocky "Top": A plunging neckline and large breasts make any points about football seem...better
Cardinal (Sin): Nudity+Sex Toys=Internet Fame
Quote:
Rocky "Top": Said that seeing a game at Neyland Stadium makes you "literally shake in the stadium" (and made us want to be sitting next to her during that moment)
Cardinal (Sin): "Ok, but you promise you're not going to show anybody these pictures if I do that?"
Impressed Us When:

Rocky "Top": Said the shaking line without a hint of irony considering her outfit
Cardinal (Sin): Uh, she's still impressing us. Although I don't think Benny's boss appreciates him using those pictures as a screensaver.
Disappointed Us When:
Rocky "Top": Did more of these YouTube shows
Cardinal (Sin): We couldn't find more pictures of her on the Internet

In Ten Years She'll Be:

Rocky "Top": A sideline reporter on ESPN 8 - "The Ocho" - covering professional ping pong
Cardinal (Sin): The ex-Mrs. Yost (hey, fuck you all, it's my blog)
Line:

Who are we kidding? Unless only folks from UT vote, it's the Cardinal in a rout (hell, I can't even imagine Vol fans not picking the Louisville lass in this one). And if she does win, it sets up a very intriguing showdown with Jenn Sterger in the quarters.
To cast a ballot for your favorite, click here to vote or leave us a comment.