The e-mails keep coming for the most anticipated Michigan-Ohio State game....ever. Thanks for your links and story suggestions. And keep 'em coming. We'll try to get as many up as we can.
* Originally via
Deadspin
and also
sent to us by BB
(scroll to the bottom), here is the story of a tOSU fan who built a 1:275 scale model of the Horseshoe. Wow. And I thought I wasted a lot of time with this blog.
While the stadium is nice, GD over at MVictors.com built his own Lego homage to the Bucks...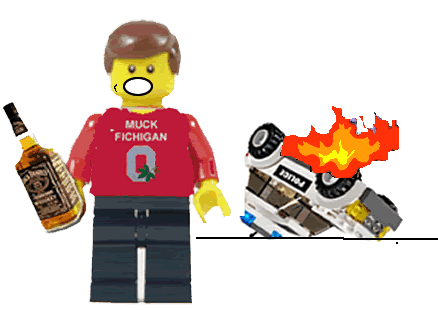 * Whenever Michigan plays a big game, I always wonder: What does former RB Chris Perry think? (HT: JZ, Grant, ZB)

* The Columbus Post-Dispatch, with all the impartiality that you just don't see from mainstream media anymore, details all the Ohio "Traitors" who have played for Michigan. Includes a great graphic. (HT: KP, EZ).
* Teflon Tressel? Uh, that's one way of saying it.
* Ok, these new pics of the potential stadium renovation from insdie the Big House actually look very cool. (HT: T9)

* A Canton, Ohio couple is selling their tickets for the game to defray the costs of adopting a boy from Guatemala. I wonder if they're going to teach him how to say "Cogida Michigan!" (HT: IC)
* Bar + Big City = College Football Fans in the Fall (HT: DW)

* ESPN has been over the top with their coverage of the game, but I found the ESPN video game simulation interesting. Though I hope it's not prescient, if tOSU does win, I could see it going down just this way. (HT: IC, JZ)
* One more look at the late, great Bob Ufer (HT: AHS, JZ)

* MF sent us a picture of the Michigan-Ohio State ticket stub from 1948 shown below. And what better time to remind readers to check out the Michigan Football Ticket Museum, where you can see tickets from as far back as 1894, and can view them by opponent as well.



* It's classic Bo, captured by ESPN's Ivan Maisel. (HT: KK)

* And finally, Jonathan Tu is back in the country...and...well...just read this.