(from MZone wire reports) -- Columbus, OH --
As first reported on EDSBS
, Columbus is in a state of anarchy after violence broke out today during preparations for the Michigan-OSU game this weekend. A group of armed gunmen calling themselves "the Loyal People's Army of UzBuckistan" has ousted mayor Michael B. Coleman, demanding statehood for what they are calling "the Republic of UzBuckistan." They've also declared former Buckeye coach Woody Hayes' birthday a national holiday...along with his death, the time he ran up the score on Michigan in '68, all the dates of his national championshiops and one more random date related to Mr. Hayes thrown in for good measure.
While those outside Columbus are calling it a coup d'etat, sources near the 'Shoe say students there are only referring to it as "really, really bad stuff" as "coup d'etat" was not a word many undergrads were familiar with.
The choas seems to have started when it began to sink in for Buckeye fans that beer in domestic bottles would not be sold near the stadium this weekend. Realizing they would only be able to chuck expensive, imported beer at Michigan fans, OSU faithful began fanning out in an attempt to stock up on domestic beer bottles before the ban took effect. Things quickly got out of hand when an angry mob stopped a beer truck near campus only discover -- quote-- "fucking imported piss beer" according to Bud Wilbinski who witnessed the event but claimed he didn't take part in the violence, simply stating, "the same shit goes on in Ann Arbor when we play there!"
As of this hour, the death toll at this hour stands at 3,000 as evidenced by the photo below.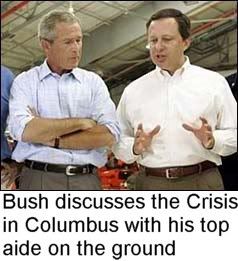 In Washington, President Bush urged calm and said he was sending his top person to Columbus to take charge of the situation. However, many remained skeptical about the President's committment to Ohio when it turned out that aide he was sending was former FEMA director Michael Brown.
Sensing an unfolding tragedy, other world leaders quickly condemned the actions in Ohio with French President Jacques Chirac offering to send peacekeeping troops to Columbus. "Iraq-shmaq," said Chirac. "This is different. The French people have seen first hand the barbarism of Buckeye fans following the 2002 Michigan game. As such, we will do whatever it takes to help, including sending our entire 30 man peacekeeping force."
Stay tuned to the MZone and EDSBS as events on this growing crisis unfold. Now, back to our regularly scheduled blog.