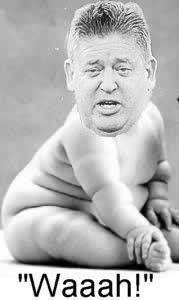 After squeaking past a mediocre UCLA team in South Bend, Charlie Weis went on the offensive much more strongly than his team did for most of that game against the Bruins when
he complained this week about his squad dropping in the polls
after the close victory.
Notre Dame was jumped by multitude of teams including Florida, Tennessee, Texas and Georgia Tech in the various rankings and Weis wasn't pleased. "One of the teams (Tennessee) that jumped us had the same game that we had. They're down, they're playing at home and they win by a field goal. Another team (Florida) that jumped us wasn't even playing. They were home eating cheeseburgers and they end up jumping us. That befuddles me," said Weis.
What befuddles me is, when will coaches learn that as soon as you start worrying about the polls instead of taking care of business on the field, your team loses focus and you often begin losing games? Just ask Tommy Tuberville. But, apparently Weis realizes that the Irish schedule is so weak the next couple of weeks, focus won't matter so it's time to bitch, bitch, bitch away.
One thing I've always respected about Lloyd Carr is, in all his years as Michigan's head coach, say what you will about the man, but I don't ever remember him playing trying to talk his team up for the benefit of some pollsters. Granted, besides this season and '97, there really wasn't a need but you get my point. I've always found such begging for votes a bit cheesey. Like that annoying, kinda-hot-but-not-hot-enough girl in high school trying her damndest to swing the Homecoming Queen vote when she's really not in the same league as the smokin' chick who transferred to your city from IHitPubertyAtElevenville in 10th grade.
And we're not the only ones talking about Charlie's whining.
DJ Gallo wrote a great piece about it
on ESPN.com (HT: DW) saying he's befuddled by a couple things himself, asking Charlie, "How you were able to dupe Notre Dame into giving you a 10-year contract worth nearly $40 million after starting your career 5-2 without a single win against a team that finished the season ranked in the Top 25. That's a bit befuddling. As is the fact that you are regarded as some sort of football god even though the next good team your Fighting Irish beat will be the first. In your tenure you have played three good teams (so much for the perception that Notre Dame plays a brutal schedule, huh?): USC last October, Ohio State in the Fiesta Bowl and Michigan five weeks ago. You were blown out in two of those three games. But, yeah, you almost beat USC. Congratulations. Heck of a moral victory there. That's exactly why you were hired. For moral victories."
Ouch.
And yes, the rest of the article is just as good and brutal.