It's almost a sin how good this Saturday is for the college football fan: seven games pitting 14 ranked teams against each other. As such, we take a look at each game and which of the seven deadly sins they correspond to.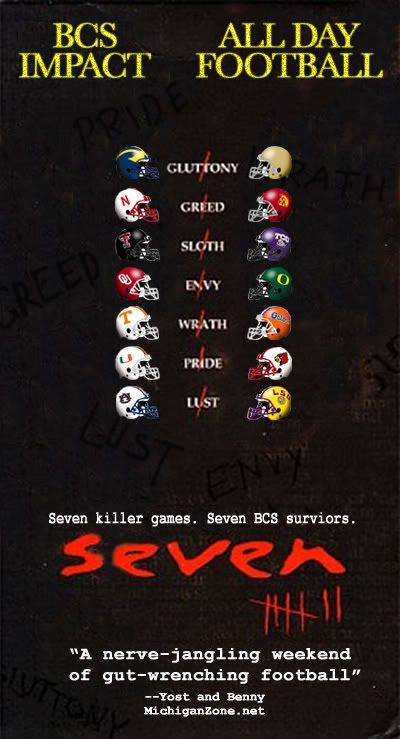 GLUTTONY
Michigan vs. Notre Dame
- The fatcats of college football: the two winningest programs in both victories and winning percentage, with the Irish even having their own network. Besides, any game involving Charlie Weis goes here.
GREED
USC vs. Nebraska
- USC has gotten everything a program could ever want in the last few years, but they want more. So instead of having a down year as they should after losing so much talent, they simply reloaded and scheduled one of the top programs in history to come to LA and get taken out behind the woodshed
SLOTH
Texas Tech vs. TCU
- Sorry Horned Frog and Red Raider fans, but anybody watching this game on OLN with all these other great games on is simply too lazy to find the remote to turn the fucking channel.
ENVY
Oregon vs. Oklahoma
- Each pre-season, the Ducks are on everybody's short list of BCS contenders. But each season, they seem to come up short or, even worse, are snubbed by the BCS for "bigger" names. So they've brought in the Sooners, the sort of traditional power they aspire to be thought of in the same breath in an attempt to change things for 2006.
WRATH
Florida vs. Tennessee
- Let's face it: these two teams hate each other. Put it this way, you know programs hate each other when one head coach openly mocks the other as Steve Spurrier used to do with his "You can't spell Citrus without the UT" taunt. And the animosity at the fan level is just as intense.
PRIDE
Louisville vs. Miami
- They're one of the three winningest college football programs the last five years, yet folks are already writing Miami off this season after a three point loss to Florida State with something like 78 'Cane players suspended due to various rules violations. Louisville is a 4 1/2 point favorite and is higher ranked, yet many are picking Miami. Even Chad Henne's old high school coach wants to know which team has more pride.
LUST
LSU vs. Auburn
- This is the game of the year in the SEC, and any college football worth his salt should have a boner just thinking about it. Couple this with the fact that ESPN's Gameday crew secretly desires they were at this game instead of in L.A. on Saturday.