Since Joe Tiller took over as head coach, it seems the Purdue Boilermakers start each season with high expectations (mainly due to a favorable schedule that usually has them not playing Michigan, Ohio State, Penn State and Iowa). But, inevitably, Tiller's squad somehow manages to blow a game (or four).
Well, turns out the folks at
Bad Idea Blue Jeans
have uncovered the reason Tiller loses focus over the course of the season. Check out the picture of his secretary they uncovered in the media guide...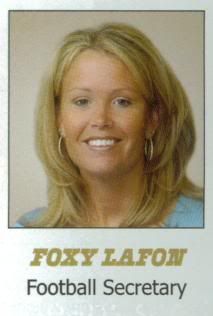 Foxy Lafon?
As the guys at BIBJ even say
, "Someone might want to check to see if her resume mentions any roles in Bond/Austin Powers movies."
Not to be outdone, which is hard to do
judging by his office
, Ohio State coach Jim Tressel has just hired Stacy Hotpieceofass as his assistant.
Thanks to MZone reader TC for the tip
.