(from MZone wire reports) Miami, FL -- Florida State defeated Miami last night 13-10 at the Orange Bowl in a game that had so little offensive football excitement, some actually thought they were watching the NFL's first Monday night game.
After the showdown, the consensus among 'Cane fans was that Larry Coker might have made a mistake in suspending 48 of his players due to various "violations of team policy" like roughing up women. "Miami has a long, proud tradition of winning with their own rules," said disappointed Hurricane fan Ted Gunderson of Coral Gables. "After this loss, Miami alumni and supporters are going to demand Coker redefine the phrase 'roughing up' vis a vis his team policy. Because this is complete bullshit."
On hand to watch the game in person was FSU Cowgirl/ESPN reporter/Playboy model/Internet sensation/UN peace ambassador Jenn Sterger, marking the one year "anniversary" since her television exposure during the 2005 FSU/Miami game when she was thrust upon an unsuspecting nation. No word yet if she wore what she wore to yesterday's game because
she was hoping to get on TV just like last year
somebody "spilled beer on her
" just like last year,
forcing
the poor girl once more to have to wear a sexy top to a football game.
In a related story, unconfirmed reports are filtering in that Ohio State fans are preparing to storm ESPN headquarters. The Buckeye Nation wants an official on-air apology or the WWL offices will be torched like off-campus couches near High Street due to comments made about their school during the FSU/Miami telecast. In the second half, one of the ESPN announcers, while talking about Miami 8th year senior DB Glenn Sharpe, said that he was the player who was called for
the pivotal pass interference against Miami in the 2002 BCS title game
that allowed the Buckeyes to win. The announcer then added that "most people don't think it was pass interference" causing the other ESPN announcer to agree with him on the air.
Immediately after the on-air exchange, Ohio police reported a surge in smashed TV sets being tossed from trailer parks across the state.
In addition to the apology, Ohio State fans are also requiring ESPN to put up a blog so that angry Buckeyes may leave 6,000 largely incoherent, profanity laced rants in the comment section.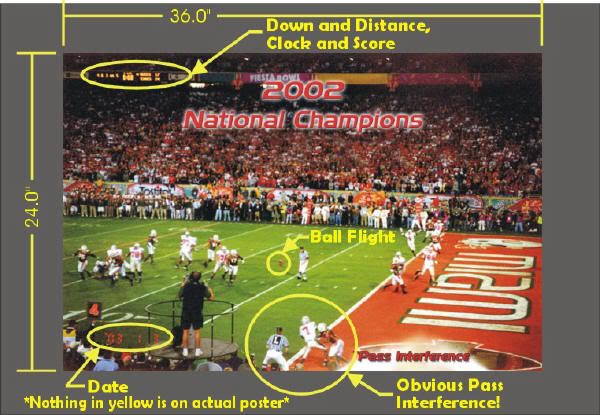 Note: Reader FP sent us the picture above which is a of
a real poster sold by an apparent Buckeye fan
. Good to see they're not touchy about it.