While some of you are busy filling out your brackets for that other March Madness which starts today, we here at the M Zone are beginning to fill out our bracket for the M Zone version of March Madness better known as the M Zone BCS: Blog Co-ed Showdown.
Recently selected by the committee are:
#4 seed
Leilani Rios
, a former Cal State Fullerton cheerleader who was kicked off the team when her coach found out she was working at the local strip club. Any chance of making it back on the team were probably ruined when she next posed for Playboy. But Cal State's loss is the M Zone's - and your - gain. And with credentials like this, she could turn out to be a formidable opponent. Leilani's first round match-up will be against...
#13
Kristi Yamaoka
, the Southern Illinois University cheerleader who was injured after a fall
during a Saluki basketball game. Yamaoka suffered a concussion and fractured vertebrae when she tumbled 15 feet from the top of a pyramid. But, as she was wheeled off the court on a stretcher, she moved her thumbs to the beat of the school fight song garnering a standing ovation from the crowd. She's tough and, if our readers vote with more than their mid section, could be a tough challenge for our #4 seed.
On the other side of the draw...
#7 seed Ashley, another Cal State Fullerton student who stars on the
softball team
and in cyberspace as Ashley May where her
MySpace account
has become the world's most famous non-porn site according to
TheHaterNation
. And while she's #4 on her team, she's #7 according to our seeding committee. And she'll be up against an interesting first round opponent in...
#10 seed, the "Bent Over Buckeye." We first saw this girl (at least one side of her) in our
favorite "Fuck Michigan" picture
of all time. And although we never saw her face, she just seemed so...committed to what she was doing in the picture, our selection committee thought she deserved an at-large bid as our #10 seed. Now, some folks say this is unfair that, if she wins against Ashley, she'll have to face another Buckeye in the Elite Eight but, well, we here at the M Zone have never been known to be fair to Buckeyes. Hell, they should be thrilled they have two teams in the Sweet 16 while, thus far, U-M has been shut out.
Finally, for your office pool, below is the bracket so far. Right click for a larger version so you can print it out and hang it next to the coffee machine. Trust us, female employees love that.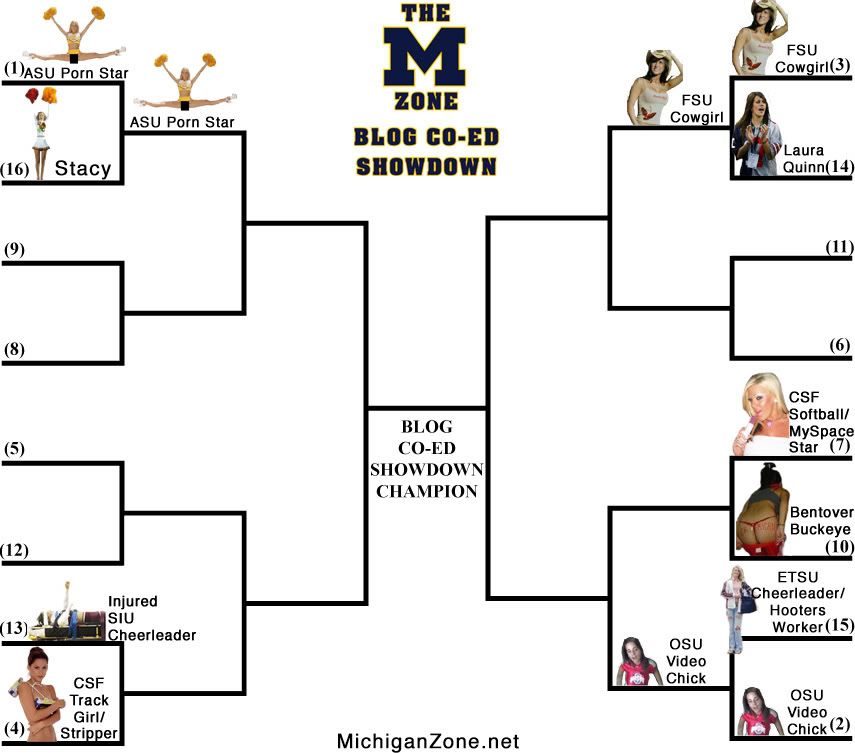 Big props to reader TMB for telling us about Ashley. Suggestions for co-eds to fill out the bracket are always welcome.