Kyle over at
Kyle on Football
, a pro-Georgia blog, has
proposed that the Bulldogs and Wolverines get together for an annual matchup
. When I first read his post, I thought it was a pretty good idea. Since it appears teams will be playing a 12th game every year, it'd be nice to add an attractive matchup against a team we don't usually play.
After a bit of a period of malaise - they recently went 20 years between conference titles - Georgia has come back strong. Over the past four years they've won two SEC championships and have been ranked in the top ten each season. Under Mark Richt, they've again become a national power, and Kyle adds a number of other interesting reasons
the matchup is attractive
.
But Georgia's re-emergence as a national power might be the reason why this matchup
won't
take place. With Michigan's recent struggles early in the season on the road, I doubt Lloyd Carr or Bill Martin would welcome a visit to Athens, Georgia. I think Lloyd got his fill of intersectional battles in
L.A.
,
Seattle
, and
Eugene
. Sure, Athens is home to
plenty
of
great
bands
, but if Lloyd travels down to Athens, it'd be more likely to be for
AthFest
. Plus, we still are scheduled to
lose
play at Notre Dame until at least 2008.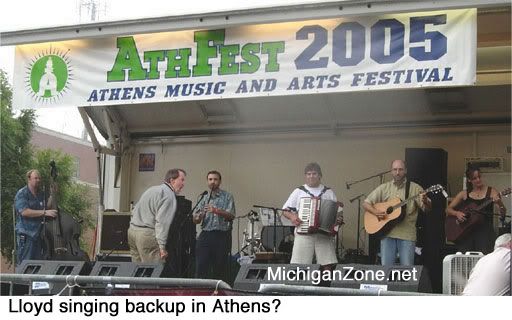 But games like this
should
happen. I don't expect Michigan to have many more 7-5 seasons, but even if they don't it's important to keep the team's profile high. Games against teams like Georgia garner a ton of publicity and even if Michigan should lose, there's a certain amount of goodwill that comes from just playing such games. A recent example was Tosu last year against Texas. It didn't hurt the Buckeyes' BCS chances.
Plus, I truly believe playing against great teams brings out the best in your team. Look at some college basketball teams like - I hate to admit it - Sparty. They play a super-tough out of conference schedule so that they're ready for the NCAA tournament. I know basketball is different from football, where one loss can kill your title chances, but playing at Georgia would make playing at places like Madison, Iowa City, and Columbus a little easier.
Besides, it would make the early season interesting. I'm tired of barely caring in September except against Notre Dame. Most of the early games I watch out of duty, and it's especially frustrating when I'm wasting the last vestiges of nice weather in the Midwest so that I can watch the Wolverines douse Eastern by 50 points. Those games aren't fun, and they'll still be on the schedule anyway. I just don't want three of them. Give me two MAC teams, Notre Dame and, yes, Kyle, Georgia. That would be a schedule worthy of a champion.